About Illinois Solar Map
With the passage of the Climate and Equitable Jobs Act (CEJA) in 2021, Illinois is on a path to 100% carbon-free energy by 2050 and has enabled the rapid expansion of clean energy installations. This map is a first pass at creating a statewide aggregate tracking the status of the state's rapid expansion of solar projects.
As of Sep 2023, over 1,800,000 kilowatts of operating solar capacity have been installed in the State of Illinois. For comparison, Prairie State, the State's largest coal power plant, is 1,630,000 kilowatts, illustrating just how far we've come in a few years, but still how far we have to go to reach 100% renewable energy in Illinois.
There are nearly 35,000 solar projects throughout the state, ranging in size from a single 0.6 kW solar panel to the 200,000 kW (200 megawatts) Prairie Wolf Solar project in Coles County.


The Prarie Wolf Solar Project in Coles County
---
Table of contents
Categories of solar projects
All units of power measurement are in kilowatt (KW), specifically alternating current (KWAC).
Solar installations are divided up into 4 categories:
Utility: Utility Scale Solar projects built by energy utilities
Community Solar (CS): Community Solar projects whose electricity is shared by more than a single property
Large Distributed Generation (Large_DG): Large Distributed Generation (DG) systems above 25 kW up to 2,000 kW in size
Small Distributed Generation (Small_DG): Small Distributed Generation (DG) for systems 25 kW and below
Top level solar project numbers
Solar installations over time
Our data covers utility solar projects starting in December 2009. Data from the Adjustable Block Program and Illinois Solar for All start in 2019.
Advanced map explorer
Looking to dive further into the data? In addition to the main map, you can browse all solar projects in Illinois by geography and category on our advanced map page:
Geographies

: US Census Tracts, Counties, State Senate Districts and State House Districts

Categories

: Utility, Community Solar, Large Distributed Generation, Small Distributed Generation

Units

: Kilowatts or number of projects
The advanced map is powered by kepler.gl, an open source geospatial analysis tool. This tool has a lot of features, including layer toggling, custom map shading, 3D mode and address search. Read the tutorial on using it here: https://docs.kepler.gl/docs/user-guides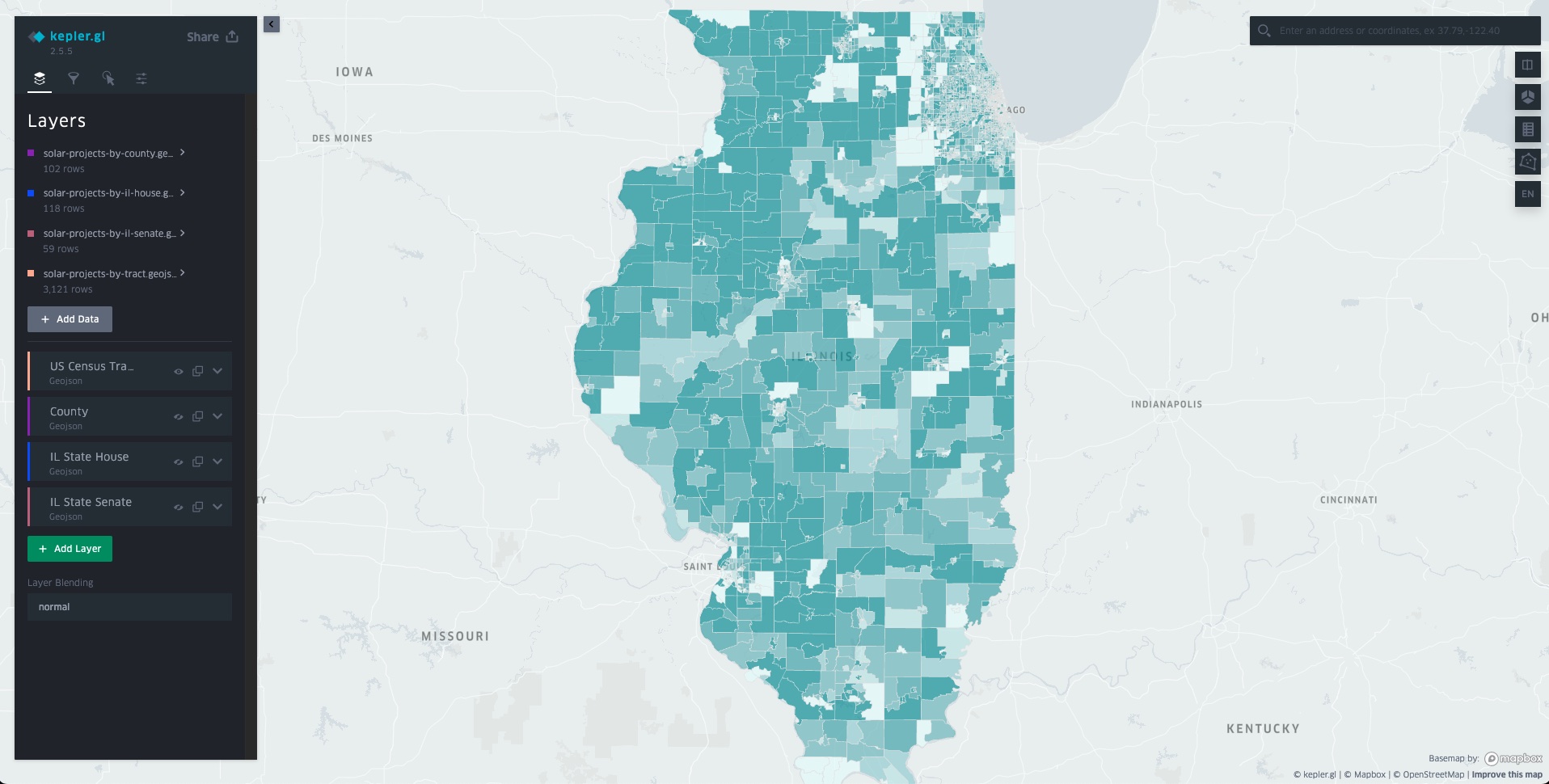 Data sources
The raw data for this map is available to view and download here. The code for this website and to categorize and aggregate the project data by category and geography are open source at github.com/chihacknight/il-solar-map.
Solar project sources
Boundary sources
Legislator info
Missing data
This map does not represent every single solar project in Illinois. Our data does not include:
solar project that came online after October 2023
small-scale solar projects that were funded before Future Energy Jobs Act (FEJA) programs were implemented (before 2018)
solar projects that did not get funding from the Adjustable Block or Illinois Solar for All programs